BULK PARTY PAINT SUPPLIES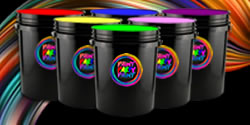 5 Gallon Buckets of Paint Party Paint
5 Gallon Pails are the perfect size to order for any paint party because they are easy to transport and you can purchase a wide selection of fluorescent blacklight reactive neon paint party colors.
Order Here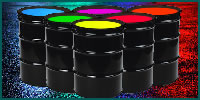 55 Gallon Drums Fluorescent Black Light Paint Party Paint
If your having a party of a few thousand people or more, you'll save money buy buying bulk fluorescent neon washable uv reactive paint.
Order Here
WHY USE OUR PAINT?
Paint party paint has been specially formulated to be be the best avaialbe paint for uv glow parties and is the safest paint on the market.. It is a non-toxic water based washable fluorescent neon paint that glows under a black light (ultraviolet light). It was designed to wash off skin hair and most surfaces. Unlike many other paints, our paint has been modifed so that all colors glow bright under black llighting in darkness. It has very little to no odor and is made in America. It has been used on millions of users over many years and is considered to be the very best and safest on the market by our customers. We know you will love our paint and be very thankful you chose us.
TESTIMONIALS:
"We found your product quality to be far superior to anything we have used in the past and we want to thank you for all of your great customer service..."
-Anthony L.
Weaton, IL
"Paint Party Paint supplies the best quality paint we have found, but also the best customer service..we will continue to support them for the entirety of our copmany's tours."
- Mark C
Gibsonville NC